A Camden County View of Paddle for the Border 2016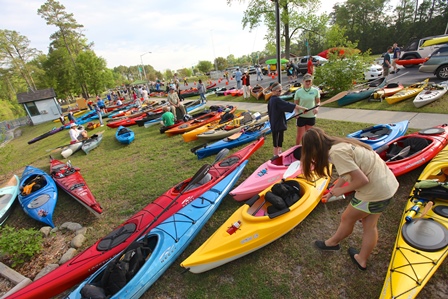 In early spring hundreds of paddlers launch their vessels into the Dismal Swamp Canal's dark, mirrored waters. This historic waterway serves as the backdrop for Paddle for the Border, an annual 7.5-mile paddling excursion to the North Carolina/Virginia border.
This annual event celebrates the canal's rich history, which dates to 1763 when George Washington's land company first surveyed the swamp before commissioning the waterway's construction. In the 19th century, the canal's dense wetlands provided refuge for slaves traveling the Underground Railroad before continuing their journey north.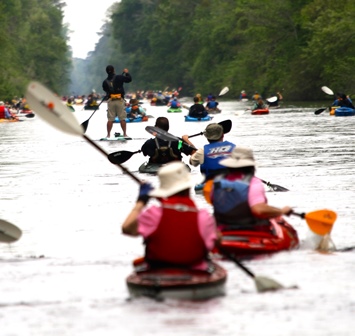 After enjoying a traditional pre-launch breakfast at the Dismal Swamp State Park, in South Mills, NC, paddlers embark on the leisurely three-hour journey to cross the state line. They finish the day out with a picnic lunch on grounds of the Dismal Swamp Canal Trail at the Great Dismal Swamp Boat Ramp at Ballahack Rd. in Chesapeake, VA.
In light of the COVID-19 pandemic, Paddle partners have made the decision to cancel the 2021 Paddle for the Border event which was tentatively scheduled for this fall. The health and safety of our communities continues to be of upmost importance.
We are committed to doing everything we can to bring our communities together for a Paddle for the Border 2022 event and will always follow the Commonwealth of Virginia, the State of North Carolina, and CDC guidelines. If it's safe to do so, we look forward to planning a Paddle for the Border event in 2022.
We thank you for your understanding during these difficult times and hope to see you next year!
Event Date: Keep checking our website for updated 2022 event information
For More Information: