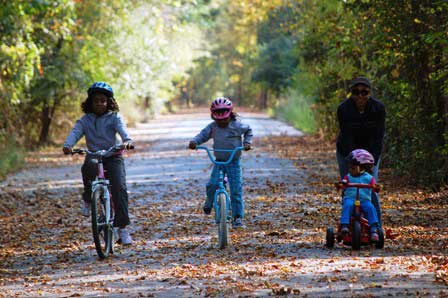 The trail-head begins on the southern end of the Dismal Swamp State Park Parking lot. Asphalt tops the 10-foot wide trail making it ideal for families.
The trail winds through a wooded area between the historic waterway and the highway, ending at NC Highway 343. A 5-foot wide extension provides access for the trail to the Village of South Mills via NC 343 and Mullen Road, ending at the drawbridge over the canal.  Total length of the Dismal Swamp Canal Trail is 3 miles. Trail mileage is posted along the wooded trail at 0.25 mile increments.
The trail is recognized as part of the NC Birding Trail, the East Coast Greenway and the National Recreation Trail.
The trail is open 365 days a year from dawn to dusk. Restrooms and water are located at the Welcome Center and the State Park. Trash should be placed in receptacles provided. Pets must be leashed and owners are responsible for cleaning up after their pets.