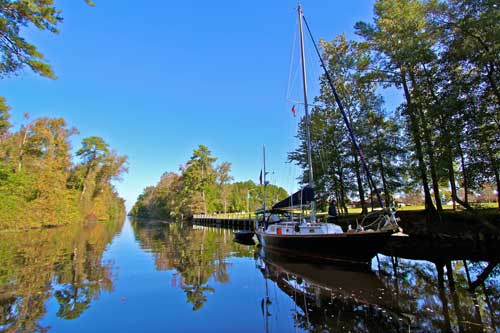 The Dismal Swamp Canal is the oldest continually operating, hand-dug waterway in the United States.  It is part of the Intracoastal Waterway connecting the Chesapeake Bay in Virginia with the Albemarle Sound in North Carolina.  The Welcome Center is located at mile marker 28.
The Welcome Center is 17 miles south of the Deep Creek lock and five miles north of the South Mills lock.  Since the canal is a no-wake zone it typically takes boaters three hours to reach the Welcome Center from Deep Creek and one hour to reach South Mills, making total transit of the Canal four hours.
Both locks operate four times a day, 7-days a week, 365 days a year at: 8:30 am, 11:00 am, 1:30 pm and 3:30 pm.  To access the Army Corp of Engineers map click here.  The pedestrian bridge at the state park will open as your vessel approaches or by sounding your horn.  The bridge is left in the open position when the park is closed. The Center provides a 150' face dock and allows tie-up on a first-come, first-served basis.  Boats are allowed to stay overnight and restrooms are open 24 hrs a day. North Carolina Coastal Boating Guides and information are free and available at the Center. The canal has a controlled depth of 6 foot.  For the latest updates on water levels click here.
The Dismal Swamp State Park rents canoes and kayaks for your enjoyment of the canal in North Carolina. Access is provided for canoes and kayaks beside the State Park bridge. If you have your own boat then you may consider traveling the three mile Feeder Ditch to Lake Drummond which is located seven miles north of the Welcome Center, near Ballahack Road, Chesapeake, VA.  Lake Drummond offers primitive camping, restrooms (seasonal non-potable water) and picnic shelters. Boat access is also available on Route 343 at Sawyer's Creek in Camden County, NC.
For detailed boating information on the Dismal Swamp Canal visit https://dismalswampwelcomecenter.com/boating/
For the current 5-day nautical weather forecast, click here.