What's In A Name? Moses Grandy Trail
By Bill Bartell, © November 23, 2009, The Virginian Pilot, Excerpt Reprinted by Special Permission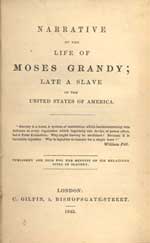 If Moses Grandy had lived in an era other than pre-Civil War Virginia and North Carolina, he might have been one of Hampton Roads' most prosperous businessmen. His fate was to be born a slave in Camden County, N.C., in the late 1700s and to come of age when there were few options for escaping the cruelties of bondage.
But he found a way, through hard work and a strong intellect, not only to endure but to prosper, buy his freedom and tell his life story to abolitionists, who used it to enlighten people about the evils of slavery.
His was a hard existence cutting timber and running boats along the snake-infested Great Dismal Swamp Canal. He also worked with white merchants bringing goods into port in Norfolk and Portsmouth. It was not uncommon for an owner to allow slaves to engage in private enterprise as long as the owner shared in the profits.
Grandy earned enough money to buy his freedom three times - the first two times his masters stole it and kept him in bondage. After finally being freed, he earned enough to buy the freedom of his wife and other relatives as well.
For the full Virginian Pilot story, Click here.
Summary of Moses Grandy's Autobiography
Moses Grandy was born a slave in Camden County, North Carolina, in 1786. He was his mother's youngest child. At least eight of his brothers and sisters were sold by his master, Billy Grandy, to other slave-owners. When his master, Billy Grandy, died, the slaves owned by Grandy were divided among Grandy's children. Moses and his mother went to Grandy's son James. Moses was about 8 years old at the time.
Moses new master James Grandy was also 8 years old at the time, and so as was the custom at the time, until the owner came of age the services of any slaves that he owned were auctioned off on a yearly basis at the County Courthouse each year in January. This was a common practice for slaves owned by masters who were under aged. "In being hired out, sometimes the slave gets a good home, and sometimes a bad one: when he gets a good one, he dreads to see January come; when he has a bad one, the year seems five times as long as it is." (quoted from Moses Grandy. Narrative of the Life of MosesGrandy, Late a Slave in the UnitedStates of America.) During his youth, Moses was hired out many times, to both good and bad employers.
Sometime after James Grandy came of age, Moses married a slave belonging to Mr. Enoch Sawyer. This would be his 1st wife. She was later sold to a Mr. Rogerson, while Moses was working on a boat.
"On the Friday, as I was at work as usual with the boats, I heard a noise behind me, on the road which ran by the side of the canal: I turned to look, and saw a gang of slaves coming. When they came up to me, one of them cried out, "Moses, my dear!" I wondered who among them should know me, and found it was my wife. She cried out to me, "I am gone." I was struck with consternation. Mr. Rogerson was with them, on his horse, armed with pistols. I said to him, "for God's sake, have you bought my wife?" He said he had; when I asked him what she had done; he said she had done nothing, but that her master wanted money. He drew out a pistol, and said that if I went near the waggon on which she was, he would shoot me. I asked for leave to shake hands with her, which he refused, but said I might stand at a distance and talk with her. My heart was so full, that I could say very little. I asked leave to give her a dram: he told Mr. Burgess, the man who was with him, to get down and carry it to her. I gave her the little money I had in my pocket, and bid her farewell. I have never seen or heard of her from that day to this. I loved her as I loved my life." (quoted from Moses Grandy. Narrative of the Life of MosesGrandy, Late a Slave in the UnitedStates of America.)
Even after coming of age, James Grandy continued hiring the services of Moses out to others. One of Moses employers, a Mr. Grice whom Moses had served faithfully and developed a sort of friendship, advised him that he should try to buy his freedom from his master. Moses had, after all, been very good at obtaining profit for those whom he had worked and had been able to save a portion of his earnings for himself. So he went to his master, negotiated a price, then set about earning that amount and paying his master in portions getting receipts along the way until it was paid off. When the final payment was made, his master tore up all the receipts and refused to grant him his freedom papers.
While Moses thought he was free, he was not and he was sold to a Mr. Trewitt by James Grandy. Mr. Grandy's sister, a Mrs. Grice felt bad about the whole deal and sued her brother James on behalf of Moses in an attempt to obtain Moses freedom. The courts sided with James Grandy, saying that Moses and all he could do belonged to James and that he had a right to do as he pleased with him and all his earnings and property until he had taken him to the Court House and given him his freedom papers. As a result of the court case, the sale of Moses to Mr. Trewitt was made to stand. Moses went to work for Trewitt, who made a deal with him: If Moses would pay him the same amount of money he paid his prevoius master plus the $600 that was paid to purchase him Trewitt would give him his freedom papers. (Clarification: Moses paid his masters a cut of his earnings from employers for which he was hired out.) Moses agreed to this arrangement. It took him 2-1/2 years to complete payment to Trewitt. Trewitt failed to grant the freedom papers, sending Moses instead with a letter to a Mr. Mews regarding a mortgage that had apparently been taken out on Moses himself. Apparently, Trewitt defaulted on the mortgage and the ownership of Moses again changed hands. Mr. Mews informed Moses that Enoch Sawyer wanted to buy him. This was not an arrangement that Moses was altogether in favor of, but Mr. Sawyer twisted his arm by way of refusing to let Moses see his wife (Moses 2nd wife was a slave owned by Enoch Sawyer, just as his 1st wife had been). Moses relented and agreed to be sold to Enoch Sawyer.
In Sawyers service, Moses first worked in and about the Dismal Swamp Canal. Sawyer had made an agreement with Moses whereby Moses would pay Sawyer a certain sum over time for his freedom, and when it was all paid his freedom papers would be given to him. Sawyer's business fell on hard times and he had to sell off some 18 slaves, his share of the swamp, and 2 plantations. Moses was one of the slaves that Sawyer kept. Moses was made to work the fields with the rest of the slaves after this. Life was difficult, harsh, and often dangerous. Moses was forced to endure continuing hardship of seeing his wife abused and could not say anything about it for fear of being beaten or worse. He often saw others beaten, sometimes to death. Moses did his work to the best of his ability, and it was hard work. He was not used to such hard field labor, and the rations served were so small that he was starving. After 8 months working in the fields, he went to his master and told him that he could not stand being in the fields. When his master asked why, Moses said it was because of the harsh overseer (supervisor) in the field who would not give them enough food to keep them from starving. Sawyer agreed to have the overseer give each slave an extra pint of meal or corn each evening that would serve them the next day until breakfast (which didn't come until noon).
One day, Moses went to Sawyer and asked if he would take $600.00 for his freedom. Sawyer gave Moses a signed paper saying he would take that amount for his freedom. Moses then hired a horse and set off for Norfolk, to see some of the employers with whom he had worked in his youth. The first one he met with, Captain Edward Minner, agreed to provide the full amount and the next day went with Moses back to Camden to procure his release from Sawyers service. Upon finding Sawyer, Sawyer refused to let Moses go. Minner showed the paper to Sawyer and others present, as Sawyer was at Major Farrance's, at the cross canal. Minner asked Sawyer if the signature on the paper was in fact his own. Sawyer said it was his, but that he had changed his mind.
"Captain Minner stepped up to him and shewed him the paper he had given me, saying, "Mr. Sawyer, is not this your handwriting?" He replied, "Mistress said, the last word when I came away, I was not to sell him, but send him home again." Captain Minner said, "Mind, gentlemen, I do not want him for a slave; I want to buy him for freedom. He will repay me the money, and I shall not charge him a cent of interest for it. I would not have a coloured person to drag me down to hell, for all the money in the world." A gentleman who was by said it was a shame I should be so treated; I had bought myself so often that Mr. Sawyer ought to let me go. The very worst man as an overseer over the persons employed in digging the canal, Mr. Wiley M'Pherson, was there: he was never known to speak in favour of a coloured person; even he said that Mr. Sawyer ought to let me go, as I had been sold so often. At length Mr. Sawyer consented I should go for 650 dollars and would take no less. I wished Captain Minner to give the extra 50 dollars, and not to stand about it. I believe it was what M'Pherson said that induced my master to let me go"
It took 3 years to repay Captain Minner, thereafter securing his freedom papers. He was a free man. He left and moved to Boston where he worked and earned enough to later secure the freedom of his wife who he then sent after, bringing her up to Boston to live with him. His son's master later sent him a letter letting him know he could buy his freedom for $450, seeing this Moses set off on a voyage from Boston to Norfolk to secure his son's freedom. He took $300 with him in an attempt to purchase liberty for his son. His son's master would not take the $300, insisting on the full asking price of $450. And so, Moses returned home. Moses later returned to Norfolk on a subsequent voyage with the full price and secured his son's freedom. Moses continued throughout his life to track down his family, his daughters, sisters, brothers, other family members, securing freedom for those he could. Like the biblical figure who led the Isrealites out of the desert to freedom, Moses Grandy led his family to their freedom through his hard work and perseverance.
The full text of the autobiography Moses Grandy. Narrative of the Life of MosesGrandy, Late a Slave in the UnitedStates of America can be found at the following website: http://docsouth.unc.edu/fpn/grandy/grandy.html