Pasquotank-Camden Emergency Management has begun their "Know Your Zone" – Evacuation Zone initiative.  We are two of three counties in North Carolina that are piloting the Know Your Zone initiative for evacuation zones in 2019.  Beginning in 2020, evacuation zones will be expanded across all the coastal counties of North Carolina.
North Carolina Know Your Zone is a tiered evacuation system that highlights areas most vulnerable to impacts from hurricanes, tropical storms, and other hazards.  Zones are used to streamline the evacuation process by using a systematic approach to determine residents that are the most threatened.
You will find detailed information in the following link below. This includes Evacuation Zone maps for Pasquotank and Camden Counties and a "Know Your Zone" Address Lookup Tool where you can enter your address in the search bar to find your evacuation zone.
Pasquotank-Camden-Elizabeth City Emergency Management Website
Click Picture to Enlarge
Camden Evacuation Zones: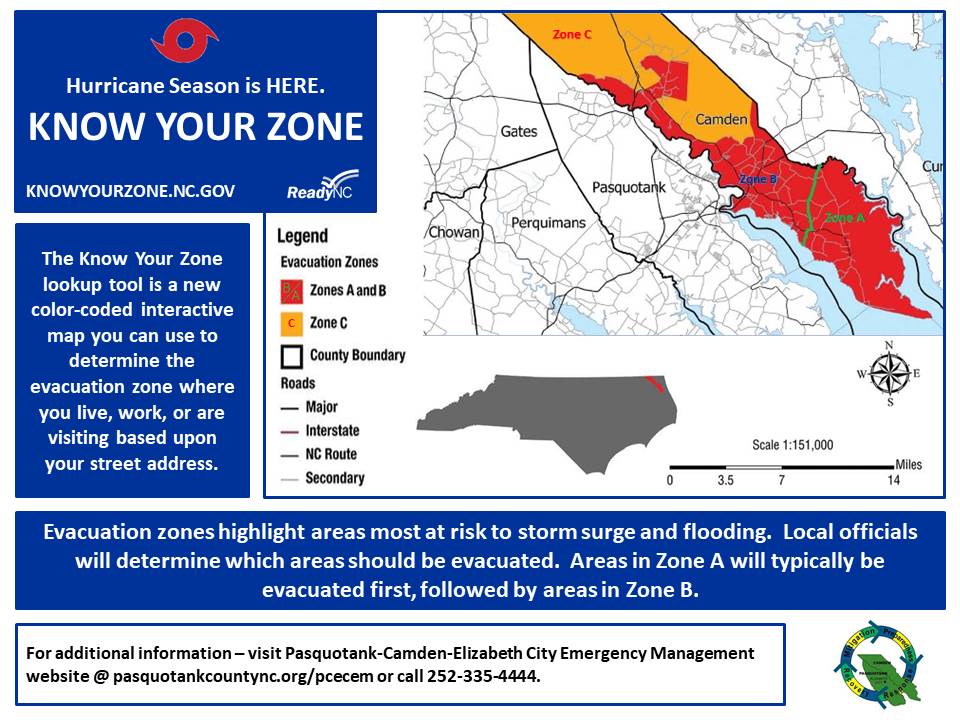 Pasquotank Evacuation Zones: