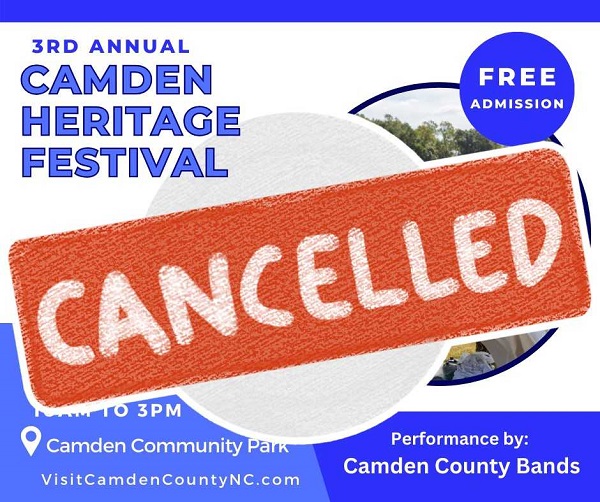 With the impending weather forecast and tropical storm warning, the festival committee has made the decision to cancel our 3rd annual Camden Heritage Festival this weekend (9/23).  We are sadden we won't be able to see everyone this year, but the safety & health of all involved and attending are most important.
*There is no rain date, we will regroup and begin planning for 2024- which will be held the 3rd Saturday in September moving forward (same place & time).
We hope you will be able to join us in 2024 and will be back in touch later this year.  Thank you for your continued support and participation in this popular event.  This event would not be possible without incredible community partners!
Please let us know if you have any questions. We are working on updating all of the vendors, participants and announcing on social media. 
Many thanks & stay safe this weekend.
(252) 621-3940
This email address is being protected from spambots. You need JavaScript enabled to view it.
Please click the following links:
New! Video of 2022 2nd Annual Camden Heritage Festival
Video of 2021 1st Annual Camden Heritage Festival at glance!